Stremio is the best source for streaming the latest movies, TV shows, live channels, and all of your favorite videos together on one screen. A large number of content directories are available to you. You can search for the content of your choice through category, genre, rating, etc. 
Browse about the latest episodes and upcoming movies. Find content in your own way and add it to your own Stremio library. If you suddenly find something useful and want to watch that content later, you can also download it.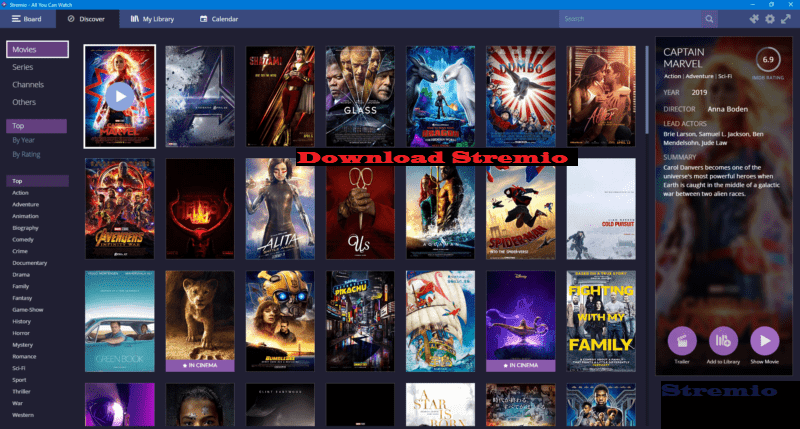 What is Stremio
Stremio is an open-source media center that allows you to access all your favorite content easily through its best Stremio add-ons. Stream tons of movies, TV shows, Live TV channels, Sports, music, podcasts, and more.
This is available on desktop apps for Windows, Mac, Linux. For mobile, it supports Android and iOS. This is also compatible with media streaming devices like Nvidia Shield, and Amazon Fire TV Stick. But it doesn't support them officially.
Download Latest Versions of Stremio apps
For Windows: Stremio 4.4 (Beta)
For macOS: Stremio 4.4 (Beta) Current for Sierra and up, Stremio 4.4 (Beta) for older versions EI Captain to Mojave
For Linux (64bit): Stremio 4.4 Debian/Ubuntu, Stremio 4.4 Fedora, Stremio 4.4 – Arch/Manjaro, Stremio 4.4 – Arch/Manjaro [AUR], Flatpak, Stremio 4.4 – Source Code
For Android: Stremio 1.3.3 ARM APK, Stremio 1.3.3 x86 APK, Stremio 1.3.3 ARM64 APK, Stremio 1.3.3 x86_64 APK, You can also download for Android from Google Play Store
For iOS: Download from Apple App Store (iOS version is limited. Not all add-ons work perfecty on iOS)
How to install Addons on Stremio
You are using Stremio. Then you have to install addons. Without add-ons, you will not be able to watch any content. After install addons, you can bring all the content for streaming such as movies, series, news, sports, and more.
You will get two types of add-ons option on Stremio. Official Add-ons, and Community Add-ons.
Official Add-ons: Stremio builds and handles official Add-ons itself. They preserve some official addons, which you can't uninstall. Because of this, Stremio gets a lot of major functions.
Community Add-ons: Users can create their own addons and publish them on Stremio. Most of the addons have been created by the community.
Remember one thing, Stremio can't do anything there if you get something wrong with the content provided by the community because this is not in the control of them.
How to Install Add-ons on Android
If you want to install Stremio Addons on your mobile phone then follow these given instructions.
Go to the top of the left corner of the site and select the main menu
Then go down and select add-ons from the list
After that Add-ons page will open through the addons menu
Switch from Official to Community Add-ons
You will see a big list of addons and install or uninstall option
See which add-on you want and install to select
How to Install Add-ons on Windows/Mac/Linux/Web
Let's learn how to install addons on Windows/Mac/Linus/Web. It is very easy. You just follow the information given below.
Go to the top right corner, and press the Puzzle icon
The Add-on Menu page will open, you can use the search bar for searching add-ons or you can go for another option using the left side menu, Available Addons
Then click the install option, to install addons open your user account
How to install the Stremio APK on Android
You can install Stremio from Google Play Store. Because its Android version is also available on Google Play Store. But for some reason, if you are not able to this, then you can download it through the apk file according to the instructions given below.
Step 1: Allow installation of apps from sources other than the Play Store
Go to Menu >> Settings >> Security >> Enable Unknown Sources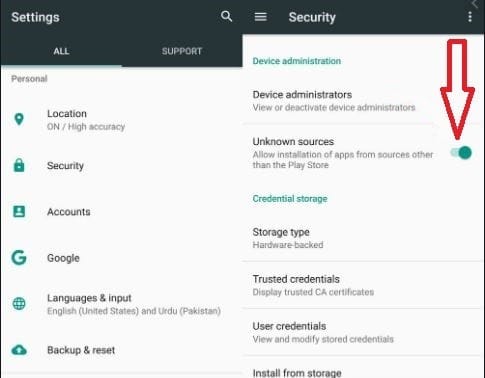 Step 2: Download the Stremio APK file for Android
Visit the official website www.stremio.com, after that click the Downloads from Main Menu or from the footer, then select Stremio for Android
Step 3: Install the Stremio APK File
To download, open the file browser app and find the apk file from where you download it
After founding the file, click to install and enjoy all of your favorite content
How to install Stremio on Firestick
Yes, Stremio can also be easily cast on an Amazon Fire TV Stick. But, you can not download it directly to your device.
You have to take permission to download third-party apps. So, you have to Jailbreak your Fire Stick first. After that, you will be able to install Stremio.
You can buy jailbroken firestick online with more features and pre-installed apps.
To know how all this will happen, read the information given below carefully.
Go to the Home Page of your Fire TV device
Select the Settings option and then Device
After that select Developer Options
Then click Apps from Unknown Sources and Turn on it
Go back to your Home Page and select Search
After that Type Downloader
Select Downloader and install it
After download it, select Open
Then type Stremio.com and click Go
You will see the Stremio Logo
Go down and click Other Downloads
You will see Stremio APK versions, select the one you need to download
After select one Downloading starts
Then go download and click Install
After installation select Open to launch it
If you follow these all steps one by one, you will get success definitely to install Stremio APK on Firestick.
How to Download and Install Stremio on Roku TV Stick?
Roku doesn't support Stremio to add Stremio addon for streaming your favorite content to your Roku device because they are using Community Addons to bring the content for you from users' submission unofficial and third-party addons.
But there is no need to be disappointed. We have another way to download Stremio on Roku.
To download it, you have to jailbreak your Roku Stick. Sorry, we can't say Jailbreak, this is screen-mirroring. If you get success to Enable Screen Mirroring Mode to your Roku device, you will be able to download any third-party app.
How to Cast Stremio on Roku using Android
As we mentioned above Stremio is not available on Roku. But you can install it after screen mirroring. To download Stremio on Roku TV using Android follow these below steps:
Step 1: Enable Screen Mirroring Mode on Roku
To enable screen mirroring mode on Roku Go to Settings >> System >> Screen Mirroring >> Screen Mirroring Mode >> Turn on
Step 2: Install Stremio on your Android and log in
Go to Google Play Store >> Type and search Stremio >> Select the Stremio official app >> click Install >> After installation select Open to launch
If you are new on Stremio, to create a new account select Signup or log in with a Facebook account, After Sign up, log in with your email id and password
Step 3: Connect the Roku device and Android to access the Stremio app
Make sure your Roku device and Android Mobile or Tablet are on the same wi-fi network
Select the cast icon from the top of the page
Select the Roku device
In a few seconds, a message will appear on your window, you have to click Accept to continue
Now your Android Mobile is ready to cast the Stremio app to your Roku device
Play your favorite movies and tv shows on your Home Big Screen now with the Stremio app via Roku Stick.
Hope you understand that how to download Stremio on your Firestick and Roku device. If you still have any question in your mind, then you can ask us by writing in the comment box.